Car on ZERO Percent Finance
Most auto dealers provide interest-free loans to attract new and returning customers and sell more cars. Obviously, zero percent finance is a good deal, even though it may seem too good to be true.
However, you'll need to trade with caution even if you're offered a zero-percent financing deal.
Sometimes, it's advisable to get a car loan from an outside lender to avoid unnecessary issues in the long run.
What is Zero Percent Finance?
In a zero percent car financing deal, you borrow money without arrangements to pay interest.
All you have to do is pay back the lender for the money he paid to the car dealer on your behalf, without paying any extra money (interest).
Alternatively, when you sign in for a car loan, the lender will add interest in exchange for taking up the vehicle payment (financing).
Besides, lenders normally make a profit from fees and interest. When it's time to repay the loan, you'll have to compensate the lender with interest for paying the auto dealer on your behalf.
How Does Zero Percent Financing Work?
The Zero percent finance, otherwise called 0% APR (Annual Percentage Rate), is a medium most car manufacturers use to sell more vehicles.
Lenders who offer this loan are called captive finance companies and are directly under the car manufacturers.
Some examples of these lenders are Nissan Finance, Ford Motor Credit, Toyota Financial Services, and others.
So, if Toyota wants to sell more of its cars from excess supplies, it may offer zero-percent financing to borrowers through its financial department.
Inasmuch as this type of financing seems simple and easily affordable, it's not always the case.
When auto dealers offer zero percent deals, they'll try other means to make up for the money (interest) lost.
For instance, an auto dealer may pressure you to buy add-on products such as vehicle insurance, extended warranties, etc.
In some cases, you may have to let go of benefits like rebates or bonus cash that normally would reduce the price of the vehicle.
Lastly, you'll need to meet specific requirements to qualify for this financing deal.
Even though you may want to opt for the option because of how enticing it is, there's a probability that you may not be eligible for the offer.
Qualifications for Car Zero Percent Finance
There are certain things that qualify one for a zero percent finance deal. They include:
Excellent credit
The zero percent APR is reserved majorly for borrowers with excellent credit. Your credit report score must be at least 800.
You'll need to review your credit report before opting for auto-zero percent financing. Note that, the eligibility requirements may vary depending on the car.
Since the requirements and standards vary, it's necessary to contact your auto dealer before going to the store. Confirm the criteria for qualifying for the loan on a particular car. 
Income and address verification
Before any of the captive lenders grant you an interest-free loan, they'll conduct some investigations to confirm whether you have a reliable source of income.
At least, with a reliable source of monthly income, you'll be able to pay back as and when due.
Also, your address will be cross-checked to ensure you don't fill in the wrong details. All of these are to ensure safety and accountability.
Employment history
Another essential factor that guarantees your eligibility is your past employment experiences. The company will need to know whether you were laid off or resigned.
The relationship between you and your employer will also be looked into.
Debt-to-income ratio
Regardless of whether you have a high credit score, you'll most likely not be granted the financing deal if you are in huge debt.
More so, the captive finance company will doubt your ability to repay the loan since you have a low income.
Therefore, it's necessary to watch your expenses, make more money, and save money to meet the interest-free financing requirements.
Limitations of Zero Percent Financing
Zero percent financing is one of the best options for borrowers, but there are some drawbacks you need to look out for.
Limited selection
This financing deal is reserved for particular car types. Besides, the vehicle you buy will most likely be a new one.
Most auto dealers reserve interest-free financing for car types that have been overstocked.
Limited repayment options
In most cases, the time you'll be given to repay the loan will be short.
There's nothing wrong with repaying your loan within a short interval, but you must ensure you'll be able to afford the monthly payment without defaulting or spending out of your budget.
How to Know When Zero Percent Financing Deals Aren't Best
There are instances where the best option will be not to opt for this financing offer. Some of the instances include:
When the repayment terms don't fit your budget
The zero-percent auto loans come with shorter repayment periods in most cases. If you're a low-income earner, the monthly loan terms may not be affordable.
Some financial experts advise that your monthly payment for a vehicle loan should be less than 20% of your salary.
You're tempted to purchase a more expensive vehicle
It's best to decide on the type of car you want to buy before going to the dealer's store.
If you planned to pay $15,000 cash for a fairly used car, diverting to a new loan with a price tag of over $45,000 just because the financing is with zero interest is an unwise financial leap.
Cash rebates offer you more savings. Any buyer who decides to settle for zero percent special financing will not be eligible for cash rebates.
So, if cash rebates offer a better deal and an opportunity to save more money, it'll be wise to forgo the special financing deal.
For instance, if you opt for a $5,500 cashback offer to purchase a new car worth $40,000, you'll only pay $34,500. If you financed $34,500 at an interest rate of 4% for 5 years, you'd pay $6,900 interest.
In that case, the total cost will be $41,400. If you include additional products like extended warranties, there'll be an increase in cost.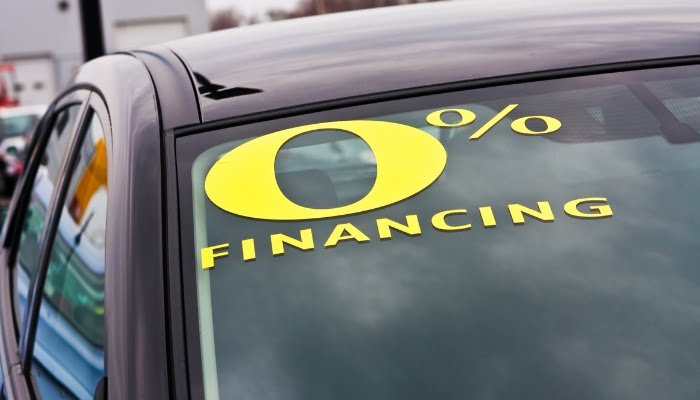 Dos and Don'ts of Zero Percent Auto Financing
If, after reviewing your options, you settle for this special auto financing, you'll need to keep the following in mind:
Dos:
Ensure you have enough monthly income that can cover the monthly payment.
Negotiate the original price of the vehicle before asking for the zero-percent financing offer.
Confirm whether the auto manufacturer offers an incentive program that you could combine with the loan financing offer.
Get yourself approved for a car loan before visiting an auto dealer.
Don'ts:
Settle for a short-term loan with a monthly payment you won't be able to afford.
Ignore the down payment if you can afford to pay at that time
Settle for the zero percent deal over cash rebates without first comparing the potential savings cost.
Opt for a long-term loan to reduce your monthly payment if it'll be more costly.
FAQs
What are Zero Percent Car Finance Deals?
These financing deals are loans offered with no interest on monthly payments. Here, you won't have to worry about paying all the purchase price at once, but in installments (mostly monthly). Unfortunately, it's not easy to find these kinds of finance deals. Plus, they're for a limited period.
How Does the Zero Percent Car Finance Deal Work?
In this finance deal, you divide your payments to cover an extended period to make purchasing a new vehicle more affordable. Auto dealers or manufacturers mostly offer this deal.

In this special financing, no one loses. The auto dealer earns the same amount as he would selling the car, except that he'll be getting the complete payment after an extended period. The buyer buys the car at the same price but pays by installment.
Is Zero Car Financing a Good Deal?
Generally, whether this deal is good will depend on an individual's budget and other circumstances. Besides, these deals are rare to find and difficult to secure. It's best to buy a vehicle outright, as there may be more benefits from freebies and cash incentives.

But, if you want to buy a new car and it's not within your budget, you can settle for the special financing option. Most of all, don't jump on the offer because it's readily available; make some findings and be sure it's the best you can rely on.
Am I Eligible for the Zero Percent Car Financing Deal?
The ultimate criteria for eligibility are an excellent credit score and a valid credit profile. No-interest loans are a high risk for lenders, so they'll only consider you if they're sure you'll be able to make monthly payments.

Most importantly, ensure you understand and accept the terms and conditions of the deal, including the penalty for missing a payment, before appending your signature on any document. Fortunately, there are other car financing deals to consider if you're not eligible for the zero percent financing offer.
What Do I Do When I Get a Zero Percent Finance Deal?
This finance deal only lasts for a limited time, so it's necessary to make some findings before reaching your final decision. Make sure to read all the terms and conditions. Confirm whether the no-interest clause only lasts for a few months.

Additionally, check the contract for any additional costs. Compare the total cost of your zero-percent financing deal with other finance deals in the automotive market. Never settle for the deal if it doesn't fit your budget.
Final Thoughts
Before settling for a zero percent auto car deal, the best thing to do is to compare its cost with borrowing from an outside lender or opting for cash rebates.
In some cases, you may not be saving, in the real sense, when you settle for the no-interest offer.
However, there are situations when zero percent financing is the best option. Make sure to cross-check your credit report before requesting this financing deal, so you don't get disqualified.
You'll be helping yourself if you search for a list of current auto loan rates and confirm whether the zero percent interest won't strain your budget in the long run.