Many a time, a lot of people get confused about which to go for between craftsman and snap-on. 
Only a few know that Craftsman and Snap-on are both ranked as top brands in the production of toolkits amidst others like:- Ames, Arrow, Bosch, CMT, and others. Their production of kits for both small-scale and large-scale projects made them remain in their top-notch position.
No doubt, they are quality tools but are better referred to as specialty tools.
They both venture into the use of power tools like- hammer drills, fast screw guns, and the like to aid easy work. Although the duo charges a high price for their products, they dispense quality tools. To get clarity on the two alternatives and help on which to choose, this article will help you.
How Portable are Craftsman tools compared to Snap-on tools?
Firstly, one should know that snap-on general tools are not packed in one kit like the duralast tools containing drive sockets, ratcheting wrenches, and others all together in a handheld collection of tools. Craftsman on the other hand is quite different.
To make comparisons, one must focus on these four (5) major areas:
Product price rate 
Toolbox size
Delivery system 
Grade
Collective offer type
Product Price Rate
Snap-on toolset is fairly expensive, you will need up to the minimum amount of $290 for the purchase of a complete kit box. Not everyone can afford it, while a Craftsman kit box on the other hand is affordable to get. As with the minimum amount of $40, you will get tools that will serve the same purpose as the snap-on.
There is no doubt that the product price of snap-on toolkits is worth it as they are of high quality and designed for professional work.  Craftsman tools are also of high quality but they are mostly used for nonprofessional works. 
Some customers perceive a lot of advantages in the low cost of using the Craftsman toolkit since they won't be affected or worried about spending money to replace a broken tool.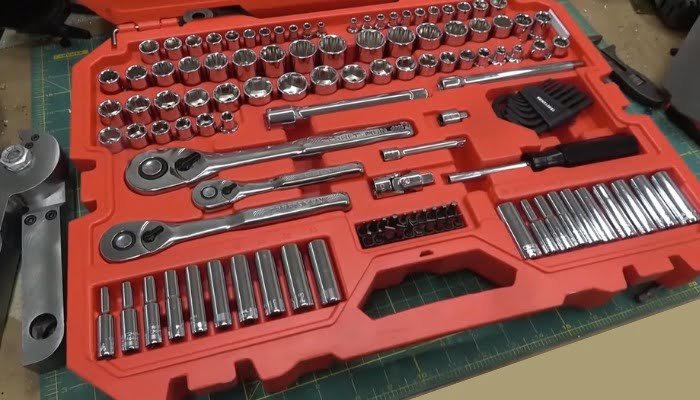 Toolbox size
Craftsman's collection of tools (kits) is hand-held and mobile. Taking look at the 224-piece set, for instance, it weighs approximately 37 pounds. Meaning that you can grab it and take it along with you in your vehicle when working offsite. 
The snap-on toolbox differs from this anyway, contrary to the craftsman, it does not have a mobile toolbox.
The snap-on toolbox is designed to be stationed in a place, so once it is delivered and placed in the desired position, moving away to use elsewhere will be difficult and require a lot of effort.
The portability of the craftsman as seen in the craftsman socket made it easy to fit into different-sized- fasteners as nearly all bolts and screws can fit into the socket.
The two brands have in their pack, a lot of utilities that make their work effective. They both share the packaging of similar tools in their kits. For instance, combination wrenches for losing knots, bolts, and other driving tools like torque wrenches for fastening bolts into Canadian tires are similar tools they have.
Irrespective of these similarities, the situation at hand may make one outperform the other.
Impact sockets and drive tools for instance can be taken anywhere easily in the craftsman toolbox but not possible in snap-on.
Delivery system
Craftsman work on both online and physical stores to cater to the needs of their customers and Snap-on specializes in the use of truck tools agents.
Due to the price rate, snap-on sees it as a priority to meet the maximum satisfaction of their customers. Irrespective of the location, snap-on agents will keep visiting their customers on a weekly basis.
Through this, they address customers' challenges easily. Unlike the craftsman that requires an online purchase order if any customer needs a replacement for a broken tool or purchase of any other tool.
Craftsman meets the needs of customers through online store booking like the tool guy online store. 
Grade
The two brands are both top-grade brands, but as snap-on tools are used for heavy-duty work, craftsman tools are suitable for DIY projects.
Collective Offer Type
It is not much of a surprise that the collective offer type also comes as an important factor in the comparison of the tools. It is expected since they were not produced by the same company.
The craftsman tool has an edge over the snap-on tools in their collection offer. A craftsman tool comes with a range of varying collections. This varying collection means the inclusion of some general tools in its typical toolset.
For example, a 224-piece kit of a craftsman tool will have varying types of sockets and drives additionally packed into its set kit.
Snap-On on the other hand doesn't include other general tools in its toolset. Instead, you will need to get them separately, at an extra cost.
So if you mind having the craftsman tool and other general tools in a toolbox set, then you might as well consider purchasing a Craftsman toolbox.
Where are Craftsman and Snap-on located?
Snap-on Incorporated is an American (Kenosha, Wisconsin US) based manufacturer and marketer of professional high-end tools used for marine, aviation, railroad companies, and other heavy duties. It was founded in 1920 by Joseph Johnson, and Bill Seidemann.
Snap-on's long-term existence made its production of automotive, industrial tools, and equipment relevant.
Craftsman, however, was originally established by Sears on the 20th of May, 1927 (94 years ago)/but is now owned by Stanley Black and Decker who acquired the brand in March 2017.
Craftsman has also known for manufacturing reliable toolkits, working wear and boots, and garden and lawn equipment among others.
They also have third-party affiliates that produce tools like pliers, adjustable wrenches, air compressors, and the like. Some of the third-party companies are Western forge, Dewalt, and Texhnoric industries among others.
The two brands have been in existence for a long time and it aids their reliability. Other brands like tool guy surfaced in the later years.
Where can I get a lifetime warranty, Craftsman or Snap-on?
You can get a lifetime warranty from both brands, their tools are durable and can stand the test of time, as long as the user follows a high level of maintenance. 
There is no doubt about the fact that snap-on products can handle any type of work. Snap-on ratchet for example is designed for heavy-duty work. 
What are the PROS and CONS of Craftsman and Snap-on?
What a person sees as an advantage may turn out to be another's disadvantage. This review will help you choose the brand that suits your taste. 
Snap-on Pros and Cons
Pros
Availability of weekly checks on customers and complains
Reliable and lifetime warranty on products
Durable products of great quality 
Cons
Expensive tools compared to the majority of alternatives like harbor freight and the likes
Immobile tools.
Craftsman Pros and Cons
Pros
Life warranty and reliability of products
Mobile tools suitable for traveling
Cheaper tools compared to their alternatives.
Cons
Weaker tools than most alternatives
Difficult purchase procedure 
Final Words
The best of the two tools can't be figured out based on their general purpose since they both have their special significance.
Notwithstanding, if you carefully read through the article, understanding how they both stand out will be easy. It will help you to make a selection based on what you want and what works for you.
For users looking for a high heavy-duty tool that will also serve a commercial purpose and also last long, a snap-on tool is highly recommended.
And for users who cherish portable and mobile tools for work, the craftsman tool is the best option since it is generally known for its portability.