How do car washes recycle water?
Many environmental wastewater management campaigns are aimed at water recycling. It's a good cause that safeguards the planet.
Besides, many industries and facilities are incorporating water recycling into their operations which is admirable.
Modern car wash equipment has responsible water use. why wastewater recycling? It's a campaign to raise awareness of the vital need to protect scarce resource which is essential to social, economic, and environmental development.
Water is a basic element and responsibly using it in car washing equipment ensures it's sustainable.
How do car washes recycle water?
Some car wash facilities have developed water treatment systems to ensure this valuable resource doesn't go to waste.
Modern car washing equipment has reduced water consumption by 40%. Some machines have as low as 33% thanks to the new frequency-converter technology and the use of a smart pulse device.
A smart pulse device automatically starts and stops the water pump as it manages the car washing operation.
It's a process that handles both the chemical dosing pumps and the high-pressure pumps using a simple system of pressure switches that prevents the pump from running when not washing cars.
However, the possibility of reusing the water is important as well and cost-saving. Car washes recycle approximately 85% of the water in each car washing service.
Car washes treat water as a working tool which is critical to the future of this business.
Therefore, other car wash facilities are encouraged to use water adequately and incorporate recycling systems to protect the resource and ensure it's used efficiently.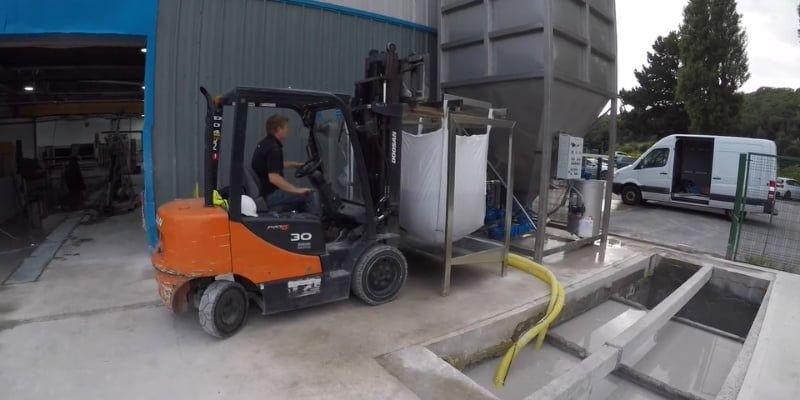 Rollover car washes save approximately 2 million liters of water annually because of the inbuilt water recycling systems. Those facilities commit to the environment and adhere to the initiatives and resolutions of World Water Day marked on 22nd March every year.
Istobal is the leading car wash equipment manufacturer and the pioneer of sustainable solutions to reduce water wastage.
The system the car wash machines use minimizes the environmental impacts by ensuring car washes have sustainable solutions.
These sustainable solutions include the use of environment-friendly car wash technologies like recycling systems which allow the rollovers to save approximately 120 liters every full service.
Without recycling the water and reusing it, the amount of water used in a single service is equivalent to running your tap for 106 consecutive days.
Recycling systems include both biological and physical recyclers that reuse 80% of the used water every service in the next car wash program. It's a system that prevents water contamination at the end of the process.
Besides, it reduces water consumption by about 45% for that commercial car wash equipment. Among these water-saving efforts are 33% on jet washes and 40% on the latest rollovers.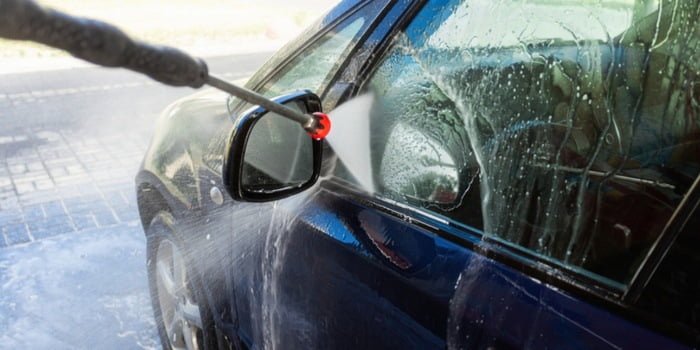 Which method uses less water: jet washes, rollover, or doing it at home?
Washing your car at home using a hose uses about 500 liters of water.
Using high-pressure jet washes systems to wash the vehicle uses 40-60 liters for the full program.
Using rollover car washes uses about 160 liters of water that you can reuse because of the water recycling system. 
How much water does a car wash use?
The value of recycled water lies in the automatic car wash. How much does automatic car wash use?
The amount of water required to clean a vehicle depends on factors like whether it's an in-bay service or a drive-through tunnel car wash. Also, it depends on whether you do a touch-free wash or a soft-touch wash.
It also depends on the high-pressure applications used and other additional services you select.
In short, the amount of water a car wash uses depends on how your automatic car wash process works.
For example, an in-bay automatic system requires the vehicle to be stationary as a sequence of soft cloth foam brushes the exterior to remove dirt and debris. It uses about 35 gallons of water in each car.
A high-volume location where a single bay washes an average of 100 cars a day may use 3,500 gallons daily.
However, a touch-free wash relies solely on high-pressure spray and strong chemicals and not the gentle friction of the soft touch. The touch-free wash uses about 70 gallons per car.
On a single bay, it washes 100 cars and uses roughly 7,000 gallons of water a day which is twice that of the soft-touch car wash.
To be fair, common industries use as much water as a hotel uses roughly 3,000 gallons a day for washing towels.
Consequently, an average sit-down restaurant uses about 6,000 gallons of water daily.
A tunnel car wash can utilize much more water compared to a park-in and drive-in car washes.
A tunnel car wash has many moderate high-pressure applications that use roughly 120 gallons or more for every car on the conveyor.
The automatic car wash can accommodate more vehicles like 400 cars a day with daily consumption of 40,000 gallons of water.
Therefore, installing recycling in the tunnel car wash saves water and is environmental-friendly.
How does the car wash recycling system work?
Installing a recycling system helps in reducing sewer and freshwater costs. It also eliminates the impact that contaminated water creates on the environment. Many car wash owners are installing recycling systems in their facilities.
Moreover, most municipalities require car washes to have these recycling systems to get code certification and receive payment.
A water recycling system is an operation that works together with car washing equipment.
However, not all recycling systems work the same, but all draw water from the settling tank installed in the car washes and process that water to remove chemicals, and contaminants and treat it for bad odors then send it back into the car wash system for reuse.
Elements such as clay particles and sand present in the water easily damage the car paint.
Therefore, they are removed before they settle. Many car washes offer extra services like complete surface protectant and rain-x among others.
Water from the recycling system doesn't have detergents, waxes, or other chemicals like motor oil. Any water entering the sewer system is cleaned. The water recycling system has in-built incentives meant for car wash owners.
For instance, 75-90% of the water used in car washes comes from recycling and not from a freshwater source. It's a cost-saving measure that protects your bottom line.
Conclusion
Car washes are incorporating recycling systems to ensure the wastewater is safe for reuse.
The recycling systems are highly-effective and recycle up to 90% of wastewater making it a cost-effective solution.
Environmental impact is a necessary consideration when running a car wash. Municipalities are starting t put requirements for one to run a car wash to ensure the environment is protected.
Let us know how we can be of assistance.
Resource: