5 Best Grille Guard for Deer: Fortifying the front of your Truck
Looking for a good bullbar that doesn't look like something out of Mad Max?
Can't blame you! Whether you like it or not, animals have as much a right to cross the roadway as we do.
The harsh truth is, the land was actually theirs long before a human being set up roads, cities, and other man-made structures.
Don't even try to deny it!
Unfortunately, these animals don't have the best timing when it comes to crossing a super busy highway, and there's not much to do to stop them.
So How to Prevent an Accident?
Awareness is maybe the only tool for preventing a wildlife-related collision. To be more specific; a Grille Guard is undoubtedly one of the crucial pieces of car protection gear your vehicle can have.
So let's take a closer look at some of the Best Grille Guards for Deer on the market right now.
So Just What Are Grille Guards?
'Grille guard' or 'cattle pusher' is not only used in the United States, you can find it around the world but in a different name. It is also named a kangaroo bar; nudge bar, push bar, brush guard, etc.
So what actually it is?
Well, in plain words, a strong cage-like structure that works to cover the front of the vehicle. Plus, they serve as an extra layer in case the truck or car hits, also protecting the fragile headlights and grille.
Still not convinced?
A Grille guard is a device usually installed on the front of a vehicle to shield its front from collisions with a large animal or a collision with another car or truck in police usage.
5 Best Grille Guard for Deer that gives your Vehicle Unrivaled Protection!
Here are our reviews of 5 of the most exceptional Grille Guard reviews that you can grab your hands on.
1. AUTOSAVER88 – Best Bull Bar for Truck
Reliable protection that will definitely keep you safer! Yes, you heard that right.
Built-in 72W LED light bar designed to maximize visibility and offer light where headlights don't work (Removable). In the meantime, the pre-drilled can add extra lighting. Let's take a closer look.
Why We Love It?
To ensure an excellent quality bull bar, AUTOSAVER88 ensure that the whole production process is maintaining correctly and follows the following steps strictly:
Phosphating
"E-Coat" layer inside and out
Marvelous Dual-stage textured black powder
The bumper bar is made of a three-inch heavy-duty tubing frame, provide the best in strength and durability. On the other hand, E-coating makes it rust-resistant.
What else?
A skid plate gives your vehicle extra protection. LED light bar adds extra light bars to increase the user's nighttime field of vision.
What's in the box?
Skid Plate Light Mount
Mounting brackets and Wiring Harness
Front bumper
Modular skid plate
Instruction
Keep in mind
If equipped, it will interfere with front sensors. Regular waxing is highly recommended to give a protective layer over its finish. But do not use any wax or polish that contains abrasives.
One more thing…
It is compatible with Dodge RAM 1500(2009-2018). So before buying, please confirm the model.
Pros
Front end protection
No drilling required.
Easy bolt-on installation
Cons
2. Tyger Bull Bar Tacoma – Best Brush Guard for Silverado
Want a solid front-best bumper for deer protection and your vehicle?
Don't worry; Tyger is here with a tremendous deer guard that is available at a competitive price. Yes, the company tries its utmost to offer the best possible solutions for our needs.
Can it be true?
Believe me or not, the quality of the guard is quite good and looks to be pretty tough. Tyger has been dominating the deer guard industry for over a few decades.
Why We Love It?
Quality, style, and functionality!
Tyger is dedicated to producing new and innovative products that emphasize superior quality, durability, and functionality.
Let's start this Tyger bull bar review with its overall appearance and construction.
They are made of a solid 2.5inch tubing frame with a sturdy E-coating textured finish for a customized look and rust resistance! In a single word, it was constructed with Seamless welding for a hard rock structure.
Why it's so unique from the rest of the others?
Tyger patented bumper will give your car robust protection on the front end. It is both unique and functional.
Pre-welded mount channel for LED light mounts (optional) and 2 pre-drilled mounting holes are only for license plate relocation if somehow needed. 
What's in the box?
Bull Bar
DIY Installation Manual
Mounting Hardware
Keep in mind
Don't forget, if equipped, the factory skid plate should be removed permanently. Another thing, Minor cutting is required if you have 2016-Up models.
Pros
Easy bolt-on installation
No-hassle five year warrantees
Expertly crafted following the strictest industry standards
Cons
Poor quality side adjustment plate
3. Westin HDX Grille Guard Reviews
Make your motor vehicle stand out on the street with Westin HDX!
That's right!
Westin Grille Guard HDX is really a true warrior when it comes to protection. Each HDX Guard is a rigid construction built for each specific vehicle application for a superb custom fit.
Why We Love It?
Just wow!
I fall in love with this crazy little vehicle gear. As you can see, the exterior is gorgeous black. In the meantime, it is available in a black powder coat and polished stainless steel finish.
Still not convinced?
Designed to give your truck a dominating look, this stunning guard installs quite merely to prevent damage to your vehicle's front end.
Gain superior style with the Westin Brush Guard. Definitely, it could consider as one of the best brush guards for f150. 
But wait – there's more!
Westin's HDX Grille Guard is well enough for giant trucks and SUVs feature a two-inch tubular outfit along with a plate center (full punch) for extra protection.
What's in the box?
Keep in mind
The Westin HDX Guard is designed especially for the 2009 to 2014 F-150s(Ford), excluding the SVT Raptor models and Harley Davidson.
Pros
Rugged good looks
Full wrap-around guards (headlight)
Heavy-duty rubber pads
Cons
The horrible instructions manual
4. KYX Bull Bar Grille Guard Off-Road Front Bumper Black
Need More Visibility at Night?
This one from Dee Zee comes with factory-drilled holes to add auxiliary lights, offering you the privilege to add lights in the front of your vehicle and the chance to customize the bull bar even more.
Good for you!
Want to know more about this awesome gear?
Check this out:
Why We Love It?
A new look for your vehicle!
Trust me, you going to love the brand new look of your cars. It's a pure blend of long-lasting service life and unbeatable durability.
Sounds good?
Bull Bars are the perfect solution to protect your vehicle's bumper from wildlife, dense brush, and careless soccer moms. As a result, no costly damage can happen to the truck's bumper.
What about specification?
It features 18-gauge steel tubing with a 3"diameter for a rugged constructed cool bar.
What's in the box?
Keep in mind
The mounting brackets of this guard are attached to a set of factory bolts that hold the front bumper on. So this leaves very little room and even less space to take a decent amount of torque on its hex nuts. And you have to buy License Plate Mount Sold Separately.
Pros
No-drill installation
Subtle appearance
Factory drilled hole
Cons
5. TAC Bull Bar Black Front Bumper Grille Guard
Add a durable TAC Bull Bar to the front of your truck for auxiliary light options. The TAC Bull Bar grille guard makes access to your engine easier when you need it!
You bet!
I couldn't believe my eyes when I realize TAC Bull Bar offers such a strong yet subtle appearance at this reasonable price.
Why We Love It?
It allows you to dress up the vehicle or SUV with the company's rare combination of a handy bumper-level step and rugged front-end protection and for smooth engine access.
Let's talk about its construction.
As you can see, the exterior finish is quite impressive with Black Powder Coating. This coating ensures long-lasting durability. It is also available in chrome color.
Each 3000-Series Guard is specially designed for your truck or vehicle, ensuring stunning good looks and ease of installation.
What else?
This  TAC Bull Bar is the only euro-style best brush guard with the patented built-in step. Therefore, With the TAC Bull Bar, you have easy access to the windshield areas and the hood of your SUV or truck.
What's in the box?
Brush Guards
Vehicle Specific Mount Kit
Keep in mind
It is recommended to inspect the brush guard, hardware periodically. Don't forget to recheck all equipment and nuts after the first couple hundred miles.
Pros
Easy installation
Comes with a step pad
Made of Welded Steel Construction
Cons
Worse bracket
Confusing instruction
Are Grille Guards Worth It?
It's the question you secretly dread, right? Don't be ashamed; it's actually a million-dollar question!
As you already know, grille guards come in a various range of prices. In simple words, you may find it at under $200 but if looking for an extensive unit, prepare to pay in the $500 range.
Pretty expensive, isn't it? It's obvious you want to make sure it actually worth the investment. Here are 4 reasons to make an investment in a grille guard for your truck.
Let's see Bull Bar Benefits!
1. Work well with other vehicle Accessories: A significant advantage of a grille guard is that it does not affect your other vehicle accessories that have been already installed on your truck, for example, a tow hook. In fact, grill guards can help protect certain parts of your automobile.
2. Add Additional Lights to the Grille Guard: To further the modern look of your vehicle, the grille guards allow you to feature additional fog and off-road auxiliary lights on the truck's front end.
3. Better shield in an Accident with an Animal: People shared that a grill guard can work well, preventing significant structural damage on the speed traveled, especially animal's size.
4. Gives a More Rugged Look: Definitely, the core goal of a brush or grille guard is to help protect your trucks from debris and scratches while off-reading, but they ultimately furnished your truck with an attractive, rugged style.
Choosing the Best Grille Guard for Deer: Buying Guide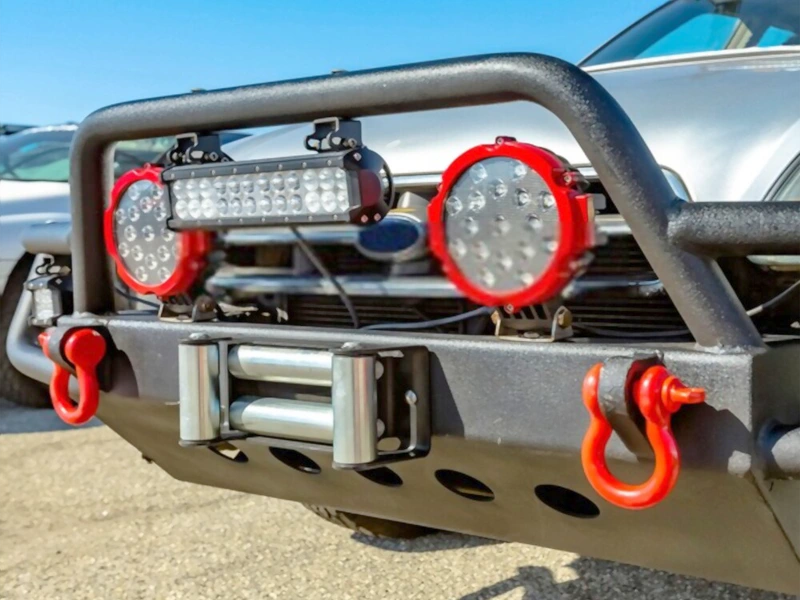 Finishing
You will find a variety of finishes grille or brush guards are offered with, such as stainless steel, chrome-plated, powder-coated, or painted with sturdy high gloss paints. Go for the finishing that matches your truck and looks seamless.
Strength
Grille guards are designed for looks and for function using different diameters of tubing which is dazzled to heavy-duty uprights.
Style
No matter your stylistic preference, there is a Grille Guard or Bull Bar for you.
So if you're looking for the best grille guard protection with an understated visual accent, pick a less-imposing bumper like the Aries Sports Bar. Some styles of grille guards are:
Full Front End Grille Guards
Sports bars & Nudge Bars
Center Grille Guards
Bumper Guards
Tail Light Guards
Skid Plates
Tail Light Guards
Related topic: bull bar vs brush guard
A word of caution: What you should Know to Avoid Deer Collision?
Fall and winter months are usually the most likely time of year to come across deer while driving. And what's worse?
The average cost of vehicle repairs due to deer-related accidents is around $4000. So in the blink of an eye, it could take a massive hit on your savings account.
Stay alert and try to follow these easy yet useful tips to avoid a collision:
Deers are more active during dusk and dawn, so be cautious during that time.
If you see one deer, pause and search for more, typically, they move with the group.
Keep your eyes on deer crossing signs.
If you see the deer near the road, slow down and beep the horn.
Wrapping up
Any collision with a moose, deer, or elk can be seriously dangerous to both the condition of your health as well as your vehicle.
As you can see, a good Grille Guard not only protects your vehicle but also makes it look rugged and better. 
Out of all of these Best Grille Guard for Deer, which one did we recommend as the top performer?
We actually fall in love with the Tyger bull bar Tacoma for its superior performance, great protective gear for the money. 
So Come on man, pick the best one from our grille guard reviews and get a rood bar built!