Grille Guard vs Bull Bar: Some Secrets are Revealed!
Are you considering what kind of vehicle protection you would like for your car?
Protecting your car when it is off-road or when it is on the road moving is a good one for your vehicle's body protection.
There is a lot of protection to consider, there is the grille guard, bull bar, brush guard, ranch hand, and deer.
They have similarities but they are not the same. They serve as protection for a four-wheel drive.
A four-wheel drive is also referred to as 4×4 or 4WD. A 4WD is a two-axle vehicle capable of allowing torque to all of the wheels concurrently.
This article will give you a description of the types of vehicle protection. We will put up the similarities and differences of each of the protections to allow you to easily make a choice.
Bull Bar vs Brush Guard
A bull bar is a device installed on the front part of a vehicle to serve as protection for the vehicle during collisions.
Just like the name of a bull bar, imagine your vehicle colliding with a large animal like a bull accidentally, the bull bar serves as protection for your vehicle preventing it from structural damage.
There are cases of intentional collision too, like in the case of a police vehicle intentionally colliding with another vehicle they are in a chase with.
Bullbars are also referred to as push bumper bars, the name was a result of their ability to push obstructions away giving protection for the headlights of the vehicles.
A bull bar protects the front end of your vehicle with its heavy-duty stainless steel finish and gives you the privilege of operating your vehicle after a collision. It can be referred to as a "center grille guard".
Its stainless steel finish also allows your vehicle to have a stylish look. So while protecting the front end part of your vehicle, it also gives it the style-appearance look.
You should read on to check out the cons of a Bullbar for a better decision.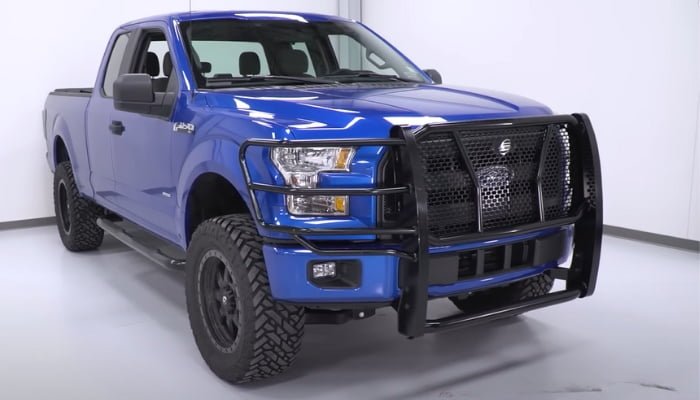 What is a Brush Guard
A brush guard is a type of grille guard. If perfectly built, a brush guard will give protection to the front end of the vehicle by guarding against vehicles caused by the brush when it is off the road.
If you find yourself preferring late-night driving over day driving or if you mostly have to drive your vehicle in a low-light area.
You should consider getting a brush guard installed for your car. A brush guard is made up of a few aluminum alloys or mild steel bars.
They are mounted to the front end of the vehicle and wrapped around the front end of your bumper or hood as a layer of protection.
With its protection, a brush guard will effectively protect your vehicle against bushes or branches scratches, animals, or other objects in a collision.
Its steel bar allows it to be used for cosmetic reasons and so if you desire a brush guard just for the style-appearance purpose and you have enough money to get one installed, go for it.
It will serve the cosmetic purpose and also give you front-end protection when you least expect it. Even with these advantages, the Brush guard comes with its cons too.
The major and obvious difference between a bull bar and a brush guard is that a bull bar only protects the center of your vehicle's front end. 
Cons of Bull Bar Vs Cons of Brush Guard
If your cars are usually driven on rough and unsealed roads, having a bull bar installed might be a great choice.
A bull bar is indeed able to protect the vehicle and its occupant against a collision but it can result in a serious injury or even death for the occupants of the other vehicle your vehicle was in a collision with or even results in injury to pedestrians.
Another disadvantage is that the weight of the bull bar on the entire vehicle can cause a decrease in fuel efficiency and also result in the compromised front suspension of the vehicle and hence the obstruction of the vehicle indicators, headlight, and the overall field of vision.
On the other hand, a brush guard will protect your vehicle and instead of great damage, you might only have minimal damage done to your vehicle. It would not reduce the cost of repair.
For example, if you had a collision that resulted in a cracked headlight with your brush guard installed instead of a smashed headlight when you do not have any guard on.
You will still need to repair the cracked headlight and you might find out it still costs approximately the same repair cost.
In a case of great collision, the brush guard itself might get destroyed which may render the brush guard useless. A replacement is on the high side and this is a great con of the brush guard.
Read more: how to disable on guard collision safety system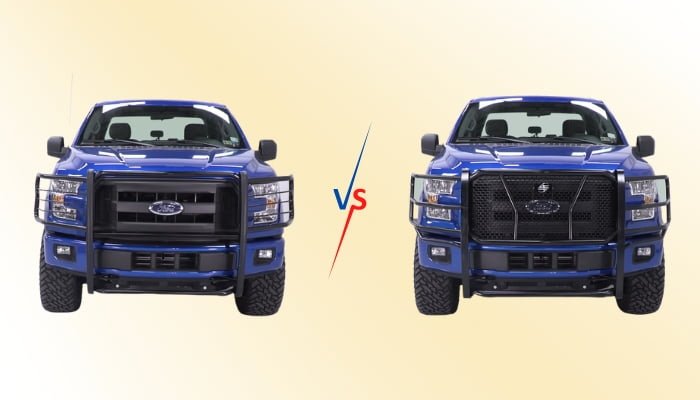 Grille Guard Vs Brush Guard
In an entire grille guard, a brush guard is present. The brush guards serve more as bumper guards. The grille guard extends to cover the front end of the bar both vertically and horizontally.
Just like the name implies, the grille guard guards the front end of the vehicle against a high brush that may scratch or be caught up in the grille. 
A regular grille guard will most likely only extend to the edges of the grille on both sides leaving out the headlights.
In the case of low-speed collisions, the grille guard will offer the minimal protection that your vehicle needs at the instance. 
Most of the time, an entire grille guard – the one that has a brush guard is referred to as a brush guard. The term "brush guard" is more frequently used in referring to standard entire grille guard.
However, a true brush guard is a vehicle protection device that extends across the entire front end of the truck, and may even curl around each of the vehicle's sides extending back a few inches over the fenders. 
This type of guard is accurately called "entire/complete grille guard". It is an entire grille guard because it effectively protects a vehicle's bumper, grille, and headlights.
Brush guards just as its name implies provide good protection for your vehicle when you drive through thick bush protecting your entire front end from debris and scratches.
Just like any other device, a quality grille guard will be able to minimize the damage caused by the impact of collisions. 
Do bull bars help in an accident? 
In a minor collision, bull bars might help but in a fatal accident, bull bars might worsen the damage.
One common characteristic of the front-end protector type is that they are usually covered in a black powder coat finish to give it a cosmetic look, this is although one of the varieties of finishes.
Other finishes that could come alongside as an additional protector for some of your vehicle parts are the tow hook, auxiliary lights, skid plates, and winch bumpers.
Also, to purchase any vehicle with a front-end vehicle protector – bull bar, grille guard and brush guard will require you to part with thousands of dollars, they are on the expensive side but they are worth it.
Final Words
While the terms used to describe the front-end protector are most times used interchangeably, it doesn't mean that they are right or the same.
Each of the terms is distinct to its protector type and comes with its advantages and disadvantages.
Whether you are contemplating buying a new front-end protector, e.g. Westin Ultimate Bull Bar, or if you are considering getting a vehicle with a front-end protector like the pickup truck, this article will give you the confidence in making relevant decisions.
We hope that this article has in one way or the other helped you and we also hope that you will be willing to drop one or two words for us in the comment section.