Does Car Wrapping Damage Paint
There are different misconceptions about car wrapping. The most popular myth about car wraps is that they damage the paint.
In contrast, they offer your car the best protection and outstanding beautification. For companies, car wraps are an essential advertising method.
Undoubtedly, many people keep asking, "does car wrapping damage paint?"
In this article, we'll reveal the truth about that misconception. It's high time you knew about the enormous advantages of car wrapping. Let's get to it!
What is Car Wrapping?
The use of graphically designed covers or large vinyl decals to cover the outer part of a car is called car wrapping. These vehicle wraps sometimes come with special designs or look like paint.
Organizations may prefer to wrap their vehicles so they can customize their logo on the exterior of their fleet of cars. On the other hand, individuals may opt for good-quality paint to reduce costs.
Car wraps come in various sizes. Some are made to wrap a part (a decal) of the car, while others are designed to cover the whole vehicle.
Most imaging companies produce car wraps using custom colors, vinyl, and special designs to meet customers' preferences.
Vinyl car wraps have an adhesive backing that allows the wrap to be attached to the car with a coat (laminated) on its surface to provide protection for the vinyl.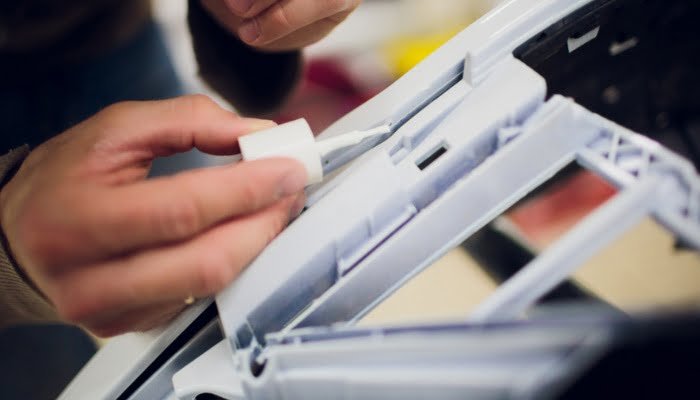 Will a Car Wrap Damage Paint?
This notion of car wraps damaging paints is entirely a myth. Car wrapping doesn't damage paint; rather, in some cases, it's the paint that damages the car wrap. Vinyl wraps, for instance, don't damage paint but paint them.
Most people love car wraps because of how it looks, while others consider them an effective and less expensive way to promote their business.
In addition, car wrapping provides an extra layer of safety and protection for the paint.
Interestingly, after taking the wrap off your car, you'll see that your paint is still as new as the day it was installed.
However, the only instance where a car wrap can damage paint is when the paint is of bad quality. After the production of vinyl wraps, they are tested using newly manufactured cars.
Nevertheless, your vehicle doesn't have to be brand new before it's fit for wrapping. But, if you decide to repaint it, ensure it's done with high-quality paint by a professional.
The most common issue with low-quality paint is that it doesn't stick properly to the body of the vehicle. Thereby making it easy to lift it off when removing a wrap.
For emphasis, you'll rarely see a vinyl car wrap damaging paint, except if the paint is of poor quality. But don't feel discouraged. If your car's paint is bad, it can be redone perfectly by a professional.
In addition, if car wraps are wrongly installed or removed, they can damage the paint job. Also, if they're left on the vehicle longer than the lifespan range, they can cause damage.
What's the Lifespan of a Car Wrap?
Once you get your car wrapped, your professional auto care dealer will intimate the lifespan of car wrapping. Note that the information your auto dealer will be giving you is facts and mere assumptions.
So, if you leave your car wrapped for more than the recommended period, you'll be increasing the chance of paint damage because the adhesive bonds stick stronger to the body of the car as time goes on.
Therefore, you mustn't exceed the limit of the recommended car wrap lifespan so you don't ruin your vehicle's paint job.
Importance of Proper Car Wrap Installation
A proper car wrap installation will always be significant and of high quality.
Plus, you benefit greatly if you ensure that professionals handle your car wrapping. Here is some importance of proper car wrap installation:
Durability
Inasmuch as car wraps have a specified lifespan, their durability will vary depending on how well they were installed. A good and proper installation is equal to a durable car wrap.
Always ensure an experienced professional handle your car wrapping so it doesn't turn out messy.
Vehicle construction
Cars are made of varied materials. Most older cars were made of steel, while the vehicles in the market today are made of carbon fiber.
Some vehicle bodies are produced using aluminum. Since vehicles have different body materials, only the appropriate car wrap must be used since they'll adhere differently to each surface.
Quality of paint
Recall that a poor paint job damages the car wrap. Make sure to use only high-quality paints. Note that specialty and factory paints are great for paint types, but some can easily break off if used with wraps.
Do well to speak to your professional auto care dealer to make a suitable paint recommendation. It would be best if you didn't settle for any cheap paint, by the way.
Proper cleaning
Anyone doing the car wrapping should clean and dry the car surface thoroughly afterward to ensure that there is no water left to mess with the adhesiveness of the wrap.
Also, only good-quality vinyl should be used, not cheap ones. Besides, vinyl wraps are made in a way that preserves and protect the car paint.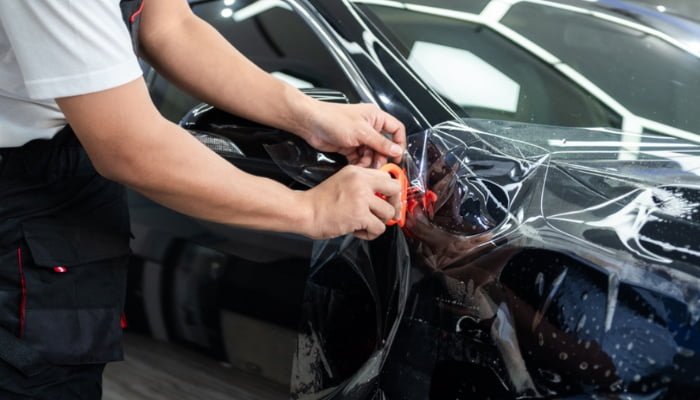 Reasons Why You Shouldn't Remove A Car Wrap by Yourself
Just because a car wrap is like a large sticker doesn't mean you can take it off without professional help.
Even though it's possible to take it off on your own, it's not advisable because you'll be at risk of damaging the paint job. Are you sure wouldn't want that?
So, it's safer to leave the removal to experienced professionals just like you did the installation.
It's only right that the wrap is removed by the person(s) who did the installation in the first instance. That way, there won't be any surprises, and the removal process will be hassle-free.
To smoothly take off the wrap, they'll be applying solvents, pulling, and a mixture of heat.
FAQs
Do car wraps last longer than paint?
Generally, car wraps last longer than paint. A standard paint job lasts for just a few years, while a regular paint job lasts the whole lifetime of a car. A good-quality car wrap lasts as long as 10 years. In addition, car wraps have more thickness than paint and don't have any pores on them. This thickness makes them easy to maintain and resistant to damage.
Does car wrap damage the car paint?
If your car wrap is properly installed and removed, it won't damage your vehicle's paint. It'll rather protect it since it functions as a protective and safety layer. Always make sure to pre-test your car paint before installing a wrap to ensure it's of good quality. If the paint job is poor, it'll peel off during the car wrap removal.
Is it possible to wrap a vehicle on your own?
It's not advisable to install your cad wrap yourself, except you're a professional wrap installer. It's better to allow an expert to do the installation, as proper car installation can be tasking and difficult for people who have no idea how it's done. With professional installation, you'll be sure not to see wrinkles and bubbles in your car wrap.
Can a wrap look like paint?
There are many kinds of car wraps. Some of them resemble paint. You can choose from any of the different specialty designs. It's all about preference. However, car wraps that don't resemble paint are more luxurious. They are customizable and versatile to suit the buyer's taste.
Do I have to replace the entire car wrap if a section is destroyed?
Accidents can cause a car wrap to get damaged. However, the good thing is you don't have to replace the whole car wrap if a section needs repair. All you have to do is buy a partial wrap that matches the color and design of the full wrap; hand it to a professional to line it up with the other wrap design.
Final Words
Car wrapping is a delicate job. So, they must be carried out with care and concentration.
Most importantly, they must be done by the finest and most experienced professionals to avoid paint damage or wrong installation.
If you need to remove your car wrap, take it back to your auto care professional to avoid heartfelt stories.