How to use a Roof Rack in 2023
The roof rack is one of the most useful family car accessories. It is very handy and both time and money-saving too.
Especially, if you are a travel lover or work that needs big objects or do family trips a lot, then a rooftop cargo carrier or a roof rack would be very useful for you.
For beneficial use and to not make a family vacation into a horrible disaster, you must know how to use a roof rack.
I am using both roof racks and rooftop cargo carriers for a long time and eventually had to know a lot. Because damaging others' vehicles or property for your luggage could end up in a huge fine or lawful punishment.
That's why read this article to know about the proper and safe use of roof racks.
How to Pack a Roof Rack
Packing is the first and most important part of roof rack use. You can't throw some bags on it and start driving! A rooftop is beneficial and handy if you know how to pack it properly.
Here are some points you should follow to use the roof rack correctly.
Placing plan: At first, gather all your bags and baggage you want to put in. Then make a quick plan in your mind to place them. Planning will help to put packs in a minimalistic order with zero gaps between them and you will able to tie them perfectly.
Loading: Load your luggage or goods safely. Take a small ladder if you need so. If you need help, don't hesitate to ask another. Remember a tiny mistake can ruin your packages, car and your whole day.
Tying: Tying is a very important part of roof rack use. You must tie your luggage in a way that it can't bounce on bad roads. It can lose the bindings. Always use high-quality strips for binding.
Long objects: If you have to take long objects such as ladders, long pipes, motorboats, etc, then you must tie them very well first. Then tie the extended parts so they don't swing or bounce. Always bind long objects parallelly with the car's length. Do not extend on the front side. Air will flow under the object and will lose the bindings.
How to Pack a Rooftop Cargo Carrier: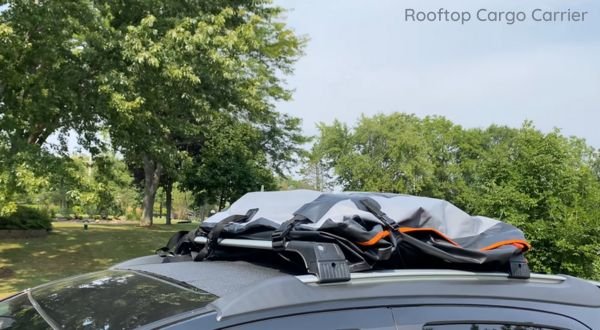 A cargo carrier is a good option for long trips. So a travel-lover must know the proper packing system.
Packing plan: You must select the right luggage and goods to load in it. Soft, unbreakable, and smaller things like sleeping bags, tents, clothing, etc. are appropriate for the cargo carrier. Avoid keeping the flammable things in the carrier since it may get very hot on sunny days.
Lock properly: Lock your carrier properly so it won't open on the bumps and fell all packs on the road. Also, try to check the lock whenever you stop.
Never overfill: Overfill can do two things. Firstly, if you try to close the carrier forcefully, your luggage may damage. Secondly, if you just keep the cargo carrier lid open, everything may get wet during a sudden rain.
Never over-weight: There is a little gap between your car's roof and the carrier. carrying luggage heavier than the cargo's capacity may damage the bottom of the carrier since there is no base support. Read the cargo carriers' user manual to know the maximum load capacity of it.
Don't put sharp things: Avoid putting sharp or pointy things in the cargo carrier. Because the luggage inside is not tied, the sharp thing can damage other bags and goods.
Checkup
During the journey, always keep in mind your rooftop luggage. Don't drive rough or zigzag. Try to check your baggage conditions every twenty to thirty miles.
Unpacking
Untie securely: Imagine you have safely tied all items. Drove safely and reached your destination and you quickly untied the strips and all of your luggage fell on the ground. Well, it will be a pity scenario.
So, always untie your luggage safely. Check any luggage if anything wants to fall or not before untying it.
Keep in mind
These are the things you should always keep in mind.
Never overweight. It may damage your car's roof. In general, Less than 80 kg is ok for carrying on the roof rack.
For long objects, always use a red flag or cloth at least on the tail of the object. If the object extends more than 1.5 meters from the car, use a car trailer for carrying instead.
Keep your necessary things like water, snacks, and cooler box inside of your cars in case you need them.
Always be patient for packing, loading, unloading and untying.
Use the right size cargo carrier for your car.
Never put a hollow or small package under a heavy bag or material.
Always use high-quality strips for binding.
Final words
I have told you all the necessary things you need to know and learn for using roof racks properly and discussed how to use a roof rack and how to pack a rooftop cargo carrier.
These will help you to use them properly. Always try to pack and load calmly, not in a hurry.
I hope this article may help you to make your work and travels safer and happier.