5 Tips for Parking in a Narrow Garage: 6 Easy Solutions 2023
Most people use their garages as a store for decorations, bikes, and tools. It makes the garage space tight which means many homeowners find it difficult to park their cars in the garage.
Learning easy and safe home garage parking is necessary when you have a tight space. It's a daily challenge that needs to be resolved quickly.
Your garage space may be smaller than you like or may have a larger vehicle like a minivan or SUV which makes parking in a narrow garage challenging.
You may have an average-sized car alongside other variables like poor lighting, clutter, and difficult space layout making parking a problem. For example, a central vac system or a support beam that impedes parking in a tight space.
Luckily for you, this article will explore ways you can park your car in a narrow garage space. It helps you know better ways to use the small garage space left properly and to park your car.
Garage Preparation
A normal garage has ample space for a personal car. However, most people use garages for keeping tools and equipment which tightens the parking space. Before you use the garage for parking, ensure you follow the guidelines below.
Evaluate your sensors
Doublecheck and evaluate the sensors of the garage doors and their placement especially if you are storing some items at the back. You cannot park the car properly in your garage if things are not kept tidy.
Take your car measurements to ensure it fits properly in the garage space. Plus, test if the door closes once the car bumper is close to the sensor. If not, you may need to rearrange your sensors.
Create a mark on the garage
You could be having a difficult time parking the car because things are blocking the pathway.
Therefore, if you pull up after a drive, something touches your car's windshield. Address the problem first to ensure that your car can pull up to the required mark without a problem. Put the mark on the walls to ensure the car is not damaged.
Check the garage
Always check if your garage doors are working properly to ensure things inside are safe. Instantly attend to any issue like malfunctioning garage doors to protect your car from damage. Hire a professional to fix the problem.
How to Park Your Car in a Narrow Garage
You need to be patient when parking your car in a tight garage. It may take time and practice to do it safely without causing any damage to the car.
First, get an estimate of the available space on both sides. When parking your vehicle, consider the following tips.
Consider your car mirrors
Parking in a narrow garage is different from parking in an open space. To start, park the car with mirrors closed to ensure they don't touch the walls which can damage them. Later, try mastering the technique by trying to park the car with mirrors out.
Practice parking in a tight space in an open area
It's better to try parking the car in an open space before you do it in a tight garage. Measure the size of the garage and mark it down in an open space.
Do practice runs to see if you can manage to park the vehicle in a tight space.
Focus your attention on mastering the technique to familiarize yourself with the narrow garage space. It helps you get a better insight into parking the car.
Observe how other people park their cars in tight spaces
If you still find it difficult, ask someone to do it and observe how they manage to park the car.
Pay attention to how that person maneuvers the car to fit in that tight space. It ensures you know how to do it at home.
Don't feel down if you are new to this and know nothing about parking the car in a narrow garage.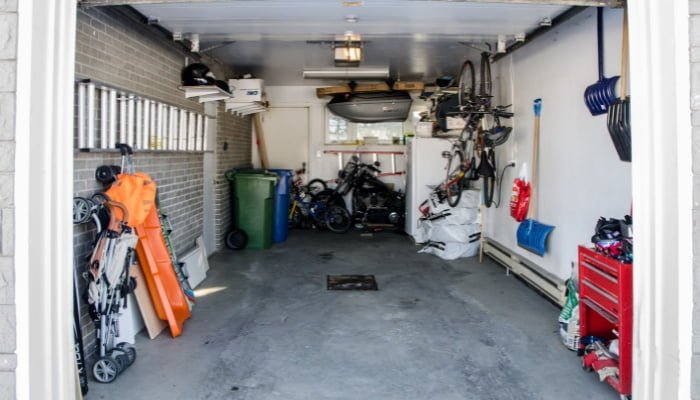 What are the potential home garage parking problems?
Sometimes not having ample room for garage parking results in potential problems.
Body and paint damage to the car
Inconveniences when entering or leaving the garage
Unable to enjoy the many benefits of garage parking
The stress of struggling to park your car inside your garage safely
A possible solution to narrow garage parking
There are ways to fix your garage parking problem that is relevant to your parking situation. Make use of the following useful tips and implement them to resolve your tight garage parking problem.
1. Make the garage bigger
Expand the size of your garage. It's a solution with no drawbacks. Use the right size for one or two cars depending on your needs.
For one car, you can use 12 inches wide by 24 inches deep. If you have larger vehicles, use 16 inches by 24 inches to accommodate storage needs.
For two cars, use 22 inches by 24 inches as it gives you flexibility. Go with more space and hire a professional garage builder.
However, you have to deal with the additional costs of garage expansion, the inconvenience of being unable to use your existing garage, the resulting mess and expansion create, and the hassle and extra costs of acquiring building permits.
2. Create more space in the garage
Get rid of clutter to create more space. Most garages don't fully utilize vertical and wall space for storage.
This will leave plenty of room for parking your car. Implement effective garage storage solutions to fully utilize underused areas.
It creates plenty of room enough for parking one or two cars depending on your garage size. Good organization is key and you can use cabinetry to accommodate your storage needs.
3. Use DIY garage parking solutions
The biggest challenge is knowing the length of your vehicle needs to fully fit inside the garage. Also, you need to know the space on either side that fits the car properly.
Use thick sofa foam pads on the walls to protect your mirrors. Use a wood block on the garage floor as your stopping indicator.
Also, you can attach a paintbrush to the driver-side wall and stop when the brush bristles touch the mirror.
4. Use proper home garage parking solutions
If you don't like the DIY garage parking solutions, you can consider other options available at your local stores.
For example, wireless car cameras make parking easier. The cameras include rearview cameras, backup cameras, reverse cameras, and parking cameras.
Alternatively, use wireless parking sensors built into your car license plate frame. The sensor communicates with your android or iOS device app by sending audio, vibration, and visual alerts when your car comes too close to an object.
Also, consider laser parking aids which you can mount in the garage. They have adjustable laser beams to help you park safely.
Better still, you can install indicators on the garage floor to guide you as they indicate the right parking spot. These indicators come as a stopper, bump, or mat.
5. Add wall bumpers or lighting
Garages have outdated lighting, so improve the illumination by upgrading to LED lights. It makes parking easier or uses wall bumpers mounted on the garage walls or Slatwall panels.
The PVC bumpers save you from denting, scratching, or dinging your car while leaving or entering the garage.
6. Practice parking and change how your park in the garage
If you are related to a previous home, you may encounter parking problems because you are not familiar with the garage space and the best way to fit the car. Also, you may be driving a new vehicle that is larger than your last car.
Practice parking the car in the tight garage space to acclimatize to the new surroundings.
Use a family member to guide you as you park until you know how to handle the situation. Alternatively, reserve a park in the garage as it makes it quicker and easier to leave the garage.
Conclusion
Learning a new skill feels intimidating regardless of your driving experience or age. The above tips help you learn parking skills effectively. Besides, it's less stressful or frustrating.
Use these skills to protect the car, yourself, and the garage even as you adjust to the new parking situation.