How to clean rubber floor mats easily
It's admirable that you have finally decided to clean your rubber car floor mat. However, you may be wondering about the best way to go about it to ensure you do the job well.
This article is going to answer the question and give you more advice on the best way to take care of your rubber floor mats.
How long have you ignored cleaning your rubber floor mat? Taking too long makes your seats grubby and the rubber floor mat has accumulated unhygienic dirt.
Besides, dirt can cause respiratory problems for you and your passengers. Therefore, take the following action to safeguard your health and make your car comfortable for all.
How to Clean Rubber Car Mats
Cleaning rubber mats is faster and easier than handling car fabric mats. The first step is to remove the mat from the car in preparation for thorough cleaning.
Proceed to shake off any loose debris and dirt from the rubber mats. You can whack your rubber mats against the wall or hard surface to remove stuck debris or just use a scraper.
Use a pressure washer 
Use a pressure washer or hose to clean off most of the mud and dirt collected on the mats. However, try not to use too much pressure as it can ruin the rubber.
It's important that you gently clean the rubber more so if it's low quality. Wash both the front and back.
Scraper or Vacuum cleaner
A vacuum cleaner helps you get those loose dirt off the rubber floor mats. Alternatively, you can use a scraper instead of a vacuum cleaner.
Afterward, you can dry the rubber floor mats using an air compressor. Moisture left can cause unpleasant odors and lead to mold growth.
Therefore, ensure the floor mat dries completely before putting it back. Alternatively, shake off the excess water and hang the rubber floor mats to air dry.
Use a bucket and soapy water
If you don't have a pressure washer, you can always settle for a bucket and soapy water. You need a sponge and a brush.
Clean the rubber floor mat thoroughly by scrubbing it until all the dirt on either side of the rubber mat is gone. Rinse your floor mat to remove the soap residue.
However, be careful when scrubbing with a brush so that you don't overdo it and damage the mat. Remember that the hard brustles easily scratch and wear your rubber mat.
Hence, the need to scrub gently to protect your floor mats. Alternatively, you can always use a brush with soft bristles and apply gentle pressure when cleaning the mats.
Use car washing shampoo, microfiber wash mitt, and water
You can use car washing shampoo, microfiber washing mitt, and water for more effective results.
Mix your shampoo with water and stir to create more studs. Dip your microfiber mitt in that soapy water and start scrubbing your floor mat. Scrub both sides of the rubber floor mats for a better outcome.
Rinse your rubber floor mats with water and air dry them. Dry off your rubber floor mats using an old towel before putting them back in the car.
It is advisable to have some wipes in your car glove compartment for wiping out any spills on your car rubber floor mats.
Which cleaner should I use on my rubber car mats?
Mostly, using soap and water will clean the rubber floor mats nicely and thoroughly.
However, if most car owners are looking for that extra shine then you can use cleaners meant specifically for rubber mats.
You can buy them at your local stores. Most rubber floor mat cleaners claim to restore them to their original look.
Most importantly, the cleaners are ideal for cleaning and conditioning the rubber floor mats without leaving the usual leftover slippery feel.
How do I remove stains on my car rubber mats?
Use a drain remover the same way you do for your car seats.  Alternatively, you can use a homemade solution of baking soda,  laundry detergent, and drips of water.
Apply this paste to that stain and scrub using a sponge or soft brush until the stain is gone. Rinse that section with clean water.
Can I wash my rubber mats on a washing machine?
Unfortunately, rubber car floor mats are not suitable for cleaning in the washing machine.  Likewise, you can't use a drier on them because it damages the mats and can damage your machine.
You can only wash the fabric floor mats in a washing machine. It's important to also check the labels on your mats. It indicates if that material is machine washable.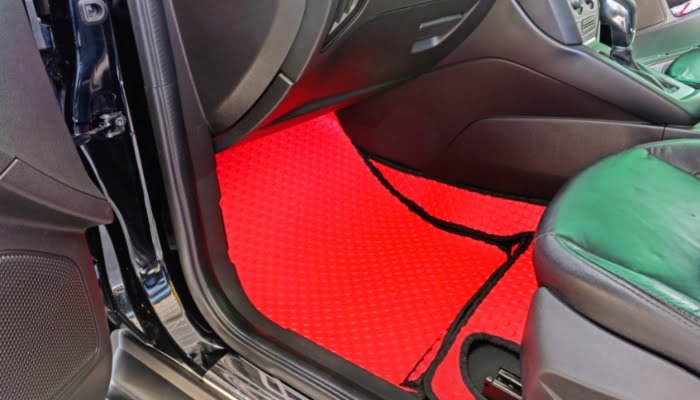 How do I ensure my rubber floor mats are in good condition?
Maintaining pristine conditions requires taking good care of your rubber floor mats. However, the work starts with the kind of rubber floor mats you buy from the store.
It's recommended that you only buy high-quality mats more so if you live in a snowy or rainy region. Mainly it's because a good quality rubber floor mat has adequate moisture protection which is vital for your car interiors.
Besides, good quality mats dry faster than other mats which is convenient in a snowy or rainy season.
However, if you settle for poor-quality rubber mats, you may find yourself dealing with holes in them. These holes will allow water to pass through into the car floor.
Over time the water causes rot in the car interiors leading to an unpleasant smell in the car.
Thoroughly wash your mats using the above process to ensure there are no stains that can compromise your comfort or the material.
Use only the recommended cleaning methods and avoid using the washing machine. Also, don't scrub the surface hard using a hard bristle brush as it damages the rubber material.
Conclusion
It doesn't matter whether you are simply sprucing your car up or intend to sell it later, cleaning the rubber mat gives it a new look.
If you often forget to thoroughly clean your car floor mats, make sure this time you add them to your car cleaning and maintenance list.